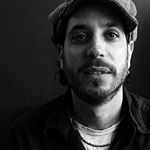 Danny Schmidt...just who is this guy?! Well, I'll tell you what I know and why he is ending up here on my blog.
Danny is a musician, a poet, a songwriter, a singer and first class human being. He is from Austin Texas- but I get the feeling that everywhere is home to him. He is on his Super Huge World Tour right now, and he is making a stop in Williamsville Illinois at the BluCat Cafe this Sunday. We will be opening our home to him and feeding him some good old Midwestern cuisine. I met Danny last fall in Rockford, and-as the title to his website implies- I was blown away. Not by his enormity of talent so much- but by his intimate way. He quietly speaks his heart and spirit and mind. I saw a rare authentic soul who shed as much light as a July sunrise. This kind of light is eternal- some know they have it and render it through song, verse, paintings, through good works. Others, misguided I would say- use it to keep others in check, to make lots of money- they, in short- sell their soul to the highest bidder. And then there are some like Danny- who find in themselves this light and use it like a thread to stitch all the fray together. To give a certain peace, in a timeless segment- through a song- they give this golden strand a voice. These individuals are ever evolving, while so many others twist and toil and turn away from change- folks like Danny, Dylan, the Rachel Carson's of the world- dive in and become the more they intended to be. The commentary of individuals such as these is ever flowing, changing, fine tuning the mess for all the rest of us to be able to better perceive the ongoing melody.
As you can probably tell, I am honored to be able to bring about this stop on Danny's tour. I think he has something to say, something worth hearing, yes- something eternally significant. Perhaps others may not perceive such depth in this young man...perhaps others may simply want to enjoy some authentic story telling with some sincerely wrought lyrics from a really sweet guy who just happens to have a voice that could melt an iceberg. Either way- the opportunity to see him locally is at
The BluCat Cafe on Sunday-March 1st.

And please if you will- do take my word for it- Danny Schmidt is for our tumultuous time- a voice that truly has something more to offer. So- do check out his website and take a listen to some of his music and if you're of a mind to- buy a CD. Little Grey Sheep is a keeper, and he has a new CD coming out in a couple of weeks.

http://www.dannyschmidt.com

I hope to interview him while he's around. Some really deep philosophical questions...over a beer. I'll let you know what transpires. Be well, take care-

(Email me for more info if need be.)